Posted 2005 May 15
Announcing Buddy Spotlight the first iChat Spotlight integration! Use Buddy Spotlight to find and chat with your iChat buddies via Spotlight. When a buddy comes online, his or her screen name will become available in Spotlight. As buddies become unavailable or go away, their screen names will disappear from Spotlight. Selecting a buddy from Spotlight will start a conversation in iChat with that buddy.
Currently, Buddy Spotlight is a stand-alone application. In the next version it will most likely be an automatic "background" process ala Growl and accessible via System Preferences or perhaps a plugin (if I can manage it).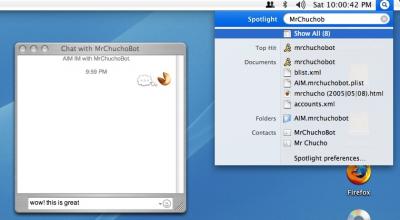 For more info and the download, check the project page.